What is Financial Independence?
The term 'financial independence' is often used, but rarely do people have a solid grasp of its true meaning.
Many individuals mistakenly believe that financial independence and financial security are the same things, yet in reality, they couldn't be further apart.
Financial independence is a liberating state of being where you no longer need to rely on a 9-5 job or other typical sources of income to make ends meet.
Conversely, financial security means possessing enough funds to cover your essential expenditures and having a buffer for unexpected situations.
In this article, we will reveal the idea of financial independence, why it is important to you and your family, as well as what steps are necessary for you to reach that goal.
Understanding the Concept of Financial Independence
Financial independence is when you possess the capability to meet your daily needs without depending on a traditional paycheck.
With an adequate amount of assets, you are able to remain financially independent and free from living paycheck-to-paycheck.
You have achieved financial stability by accumulating enough wealth that the interest and dividends from investments are sufficient to sustain your lifestyle.
Reaching the ultimate goal of financial freedom is to have sufficient savings that can cover your expenses without the need for employment.
It is essential to realize that financial independence does not equate to financial stability.
Financial security is the assurance of having adequate funds to pay for your essential expenses and extra money saved in case of an emergency.
Contrastingly, financial independence means having adequate assets to finance all of your expenses without relying upon a customary income source.
Attaining financial autonomy is of paramount importance and should never be overlooked.
Financial freedom offers you the gift of choice, enabling you to create a life on your own terms without worrying about having enough money.
You can live your best life without the fear of financial instability.
Explore your interests and take pleasure in traveling, all while feeling secure knowing that you have a steady source of income coming in.
Financial freedom gives you an assurance that few things can provide; it provides a sense of comfort and serenity, allowing you to cover your bills without being concerned about your income.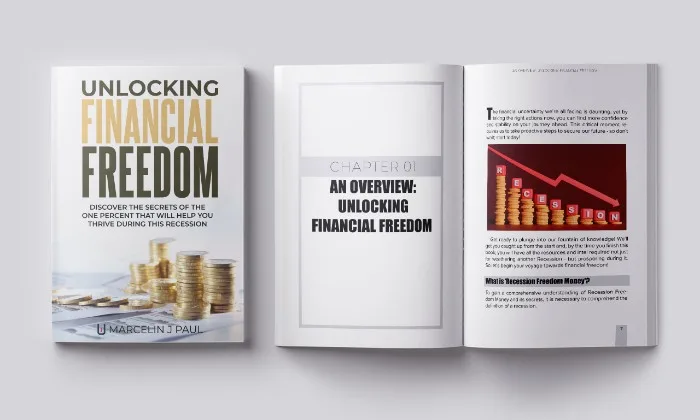 Factors that Contribute to Financial Independence
Attaining financial freedom requires taking into account a variety of elements.
Here are the most essential factors to take into consideration when pursuing economic autonomy:
Income: Securing financial liberty begins with a dependable income.
The more funds you can bring in, the better your ability to save and invest for the future will be.
To increase your earnings, consider searching for a rewarding career opportunity or explore other options like starting a side business or investing in assets that generate additional revenue streams.
Expenses: Achieving financial independence relies heavily on your spending habits.
The more you spend, the greater amount of savings and investments that are needed to reach economic freedom.
Fortunately, there is a plethora of ways to reduce expenses such as creating a budget, eliminating unnecessary costs, and opting for frugal living practices.
Savings and Investments: Financial independence is within reach with prudent savings and investments.
The faster you save and invest, the sooner you will get there!
Setting a budget can help limit unnecessary expenses, as well as reduce debt to enable more money for investment opportunities.
Your financial future awaits – take control of it now!
Debt: Debt can be a major hindrance to your financial freedom.
The more you owe, the harder it is for you to save and invest money in order to become financially independent.
To reduce your debt burden, create a plan for debt repayment by cutting expenses and earning additional income.
With this strategy, reducing debt does not have to seem like an impossible task!
Lifestyle choices: Your lifestyle selections can have a significant bearing on your financial independence.
The more you spend on luxury items, the harder it will be to reach monetary autonomy.
To make judicious life choices, create a budget plan and start cutting superfluous` expenditures.
Talk to a financial planner and adopt an economical way of living for greater financial freedom!
Related Reading:
Steps to Achieve Financial Independence
To become financially independent, it's critical to devise a plan and be devoted to adjusting your financial behaviors.
Here are the steps to accomplishing financial freedom:
Set Financial Goals: If you're looking to gain financial freedom, the first step is to set financial objectives.
This entails figuring out your preferred level of economic independence, when you would like to achieve it, and what steps need to be taken in order for that goal to be realized.
Create a Budget: Constructing a budget is an integral part of gaining financial freedom.
With a budget, you can monitor your income and expenses to understand precisely where every penny goes and how to reduce excessive spending.
Reduce Debt: The importance of eliminating debt, especially high-interest credit card debt, cannot be overstated.
Doing so will help you regain your financial independence and give you the freedom to live the life that you want.
To reduce debt successfully, create a repayment plan with achievable goals, closely monitor expenses for opportunities to save money, and explore ways to bring in additional income.
Increase Income: Elevating your earnings is a vital part of attaining financial freedom.
You can do this by applying for higher-paid roles, launching an alternate source of income, or investing in resources that produce returns.
Build a Diverse Investment Portfolio: To attain financial freedom, it is essential to create a diversified investment portfolio.
This may include stocks, bonds, real estate holdings, and other money-making assets.
Working alongside an experienced financial advisor can help you generate a well-balanced portfolio that will meet your monetary objectives.
Make Smart Lifestyle Choices: If you embrace a thrifty lifestyle, trim unneeded outlays, and prevent the urge to impulsively inflate your standard of living, you will be able to realize financial autonomy faster.
Intelligently forming wise habits is essential for achieving this goal!
Challenges and Obstacles to Achieving Financial Independence
Attaining financial autonomy can be difficult to attain, and there are various obstacles that could impede your progress.
Have a look at some of the most typical challenges posed in reaching economic freedom:
Inadequate Income: When you're struggling to make ends meet, it can be a challenge to save and invest which may impede your journey toward financial freedom.
Uncontrolled Expenses: If not kept in check, expenditures can quickly deplete your savings and make it exceedingly hard to reach financial freedom.
Unexpected Events: The abrupt disruption of events such as job loss, medical crisis, or a natural disaster can have an adverse effect on your financial stability.
Lack of Knowledge about Finance: When you don't have the right knowledge about finance, it can be hard to make prudent decisions regarding your money, leaving you stuck in place on your journey toward financial freedom.
Procrastination: Postponing financial decisions action can be detrimental to achieving financial freedom; procrastination is an obstacle that must be overcome.
Taking decisive action and making financial improvements now is of paramount importance.
Don't wait to start building a secure financial future!
Overcoming Saving Obstacles
Attaining financial freedom is an aspiration that has grown increasingly prevalent in today's world.
With the escalating cost of living and insecurity in employment, people are desperately seeking ways to take charge of their funds and accomplish financial autonomy.
Get an understanding of the present state of financial autonomy with these facts and figures:
A new report from LendingClub report reveals a worrying statistic: 64% of Americans were living paycheck to paycheck in December 2022, growing from the 61% figure recorded one year prior.
This exceeds levels seen back in March 2020 – an unfortunate yet historically high record for our nation.
Startling research from Bankrate's January survey of over 1,000 adults found that an overwhelming majority – 56% – of Americans simply do not have the necessary means to pay for a sudden $1,000 expense.
Even more alarming is the fact they typically don't possess an emergency fund or retirement savings either.
Related Reading:
Americans can't cover a $1,000 emergency expense
Absolutely, the Bankrate report shows that 44% of Americans have enough savings to cover a $1,000 emergency expense–which is an impressive feat and the highest figure in eight years.
Furthermore, certain adults excel at assembling and maintaining a viable emergency fund.
It was found that approximately 60% of those with college degrees who could pay for an unexpected expense up to $1,000 might have the funds available in their savings.
This is also true for people who make more than or equal to $50,000 per year–over half of whom could handle such expenditures without having to dip into other sources.
This implies that the majority of people are unable to amass enough funds for them to acquire financial freedom.
Experian's 2021 data reveals that the average American holds an astounding debt balance of $96,371. 3.9% increase from 2020's figure of $92,727!
This is largely due to mortgage and auto loans that are continuously on the rise.
With such an extreme debt load present in people's lives it can be difficult to save or invest money which makes achieving financial freedom seem like an unobtainable dream.
Startlingly, a study conducted by the National Endowment for Financial Education found that scarcely half of American citizens have established budget plans.
A budget is an invaluable tool for attaining financial autonomy since it helps you to stay on top of your expenditures and make wise decisions about how to deploy your money.
The Center for Retirement Research discovered that on average, Americans have only saved a mere 10% of what they need to get through retirement.
Therefore, the majority of individuals will be dependent on Social Security and other income sources in their golden years, instead of being financially independent.
The Employee Benefit Research Institute's research revealed that a mere 22% of Americans possess adequate funds to sustain themselves for six months if they become unemployed.
This evidence demonstrates that the majority of individuals are not equipped to handle unexpected circumstances, ultimately hindering their progress toward financial stability.
These statistics emphasize that it is critical to take charge of your finances and strive toward financial freedom.
To secure financial freedom, it's essential to comprehend the roadblocks and difficulties you may come across.
Armed with this knowledge, you can then take necessary action in order to build wealth and achieve sound financial stability.
By establishing financial objectives, constructing a budgeting plan, diminishing debt levels, generating more revenue, diversifying your investments, and making wise lifestyle decisions – you can take control of your finances.
Employing a combination of patience and tenacity, you can attain economic autonomy and curate your own life journey.
The Bottom Line
Achieving financial independence is a crucial step in ensuring your future economic stability and prosperity.
Financial autonomy gives you the privilege to live your life according to your own wishes, unburdened by financial anxieties.
Harnessing the power of financial independence is vital to your future, and it's simpler than you think.
All you have to do is comprehend its significance, grasp the process that can lead you towards attaining it, and take control of your finances – then watch as a brighter financial situation unfolds for yourself in no time!
It's important to keep in mind that achieving financial independence does not happen overnight.
To get your finances in order and reach your financial goals, it takes a well-crafted plan, dedication to altering old money habits, and lots of perseverance.
The path to success lies in taking decisive steps, starting with simple tasks, and remaining single-mindedly devoted to achieving your objectives.
With a consistent effort and unwavering determination, you too can unlock financial autonomy and experience life on your own terms.
Related Reading:
People Also Ask
Q: What is financial independence?
A: Having the financial freedom to live off your savings or investments instead of relying on a conventional job is what we call 'financial independence'.
Financial freedom means having the leeway to live life according to your dreams and passion without worrying about money.
Q: Why is financial independence important?
A: Achieving financial independence is of the utmost importance, as it provides a sense of financial security and peace of mind.
Money issues won't keep you from living your life to the fullest because it gives you the liberty of making choices without financial strain.
It also provides a sense of serenity, knowing that you have the necessary tools to manage any eventualities.
Q: What steps can I take to achieve financial independence?
A: Accomplishing financial freedom necessitates that you establish fiscal objectives, craft a budget, lower debt, maximize revenue streams, assemble an assorted investment selection, and make wise lifestyle decisions.
Q: What are the challenges and obstacles to achieving financial independence?
A: Becoming financially independent is a difficult journey, and often times the roadblocks are daunting.
These include having low income, overspending, unpredicted instances occurring in life, inadequate financial knowledge, and of course procrastination.
However, with the right mentality and perseverance, these obstacles can be overcome!
Q: How long does it take to achieve financial independence?
A: Depending on your financial circumstances, objectives, and the actions you take to reach them, attaining financial independence can happen faster or slower.
It takes time and dedication to make changes to your financial habits, but with patience and perseverance, you can achieve financial independence.
Q: What is the role of a budget in achieving financial independence?
A: A budget is a crucial component of achieving financial freedom and stability.
With the power of tracking your income and expenses, you will gain insight into where exactly your money is going and what areas can be trimmed down for more savings.
Allocating your funds in a budget will enable you to make smarter decisions with your money and get the most out of what you earn.
Q: What is the role of investments in achieving financial independence?
A: Investment strategies are key to attaining financial success and freedom.
Generating wealth and achieving financial freedom can be yours by investing your money in stocks, bonds, real estate, or other income-producing assets.
To best ensure that your financial goals are met, it is essential to partner with a qualified and knowledgeable financial advisor who can construct an optimally diversified portfolio.