Ready to break the cycle of living paycheck-to-paycheck and free yourself from financial shackles?
Let's make it happen and escape the matrix!
For those seeking financial independence, Robert Kiyosaki's acclaimed bestseller "Rich Dad, Poor Dad" is the perfect resource.
In this groundbreaking book, Kiyosaki shares his unique upbringing with two fathers – one financially successful and the other struggling – and encourages readers to become wealthy by investing in assets and taking calculated risks.
Rich Dad Poor Dad will undoubtedly revolutionize your financial future with its remarkable insight into smart money management strategies!
With this book by your side, you have the power to chart a course to success and achieve all of your financial goals.
On your path to financial independence, this post is here to guide you in a thorough review and answer any questions you have about "Rich Dad, Poor Dad".
With our help, you will be sure that your journey toward prosperity has the right information.
Rich Dad, Poor Dad
Rich Dad, Poor Dad is a personal finance book written by Robert Kiyosaki and published in 1997.
This book encourages readers to achieve financial independence and build wealth by investing in assets such as real estate and small businesses, instead of striving for a large salary or saving money.
Written in the style of a memoir, Kiyosaki narrates his encounters maturing with two "fathers" – one who was economically troubled and another whose economic position was prosperous.
Robert Kiyosaki's book is composed of six sections, all packed with chapters that provide insight into the "cash flow quadrant," a model for recognizing how different sources of income are created.
In Section 1, you will be introduced to this concept and begin your journey of exploring its ingenious implications.
He maintains that most affluent individuals make money from assets, rather than relying on wages or self-employment.
He suggests that individuals can be divided into four distinct categories based on their means of income generation: employees, self-employed people, business owners, and investors.
The Cash Flow Quadrant
Robert Kiyosaki illustrates the Cash Flow Quadrant, a concept that he developed to explain how people can make money in diverse manners.
He elucidates that the majority of people are confined to the left-hand quadrant, which includes being an Employee or Self-Employed individual.
However, those who amass wealth find themselves on the right side of the quadrant; Business Owners and Investors alike.
The Importance of Financial Education
In his second section, Kiyosaki emphasizes the necessity for financial knowledge and how critical to be financially literate, and also it is to teach financial literacy to the poor and middle class and help them comprehend how money works.
In his example, he explains how his impoverished dad lacked financial literacy and was unable to accumulate wealth whereas his affluent father had a strong understanding of money and amassed abundance.
According to Kiyosaki, financial intelligence is the cornerstone of true wealth.
He contended that conventional education does not provide people with the necessary skills to manage their money properly and gain economic success, leaving some without adequate resources for attaining prosperity.
Related Reading:
The Role of Assets and Liabilities
In the third part of his book, Kiyosaki stresses how essential it is to create a robust financial base through saving and investing in tangible assets.
He encourages investing in lucrative assets, like rental properties, and using leverage to make the most of investments.
For example, taking out a mortgage for real estate is one way to do this.
In his book, Kiyosaki outlines the enormous discrepancy between assets and liabilities.
Assets allow you to reap financial rewards while liabilities can strip away your wealth – it's all a matter of understanding how each element works within your portfolio.
To help readers comprehend these concepts, he offers strategies for acquiring profitable assets that will generate income for years to come.
The Power of Thinking Big
Kiyosaki emphasizes the importance of being proactive and embracing new opportunities. He explains why taking mindful risks is essential to becoming successful.
He encourages entrepreneurs to think outside the box and be open to risk-taking in order to stay ahead of their competition.
Kiyosaki advocates that it is important for people to take calculated risks and invest with confidence.
He believes that approaching investments with a long-term outlook allows you to set ambitious goals and take risks without fear.
He also encourages individuals to choose their partners carefully and build strong teams that are able to make the most of each opportunity.
Creating a vision for your future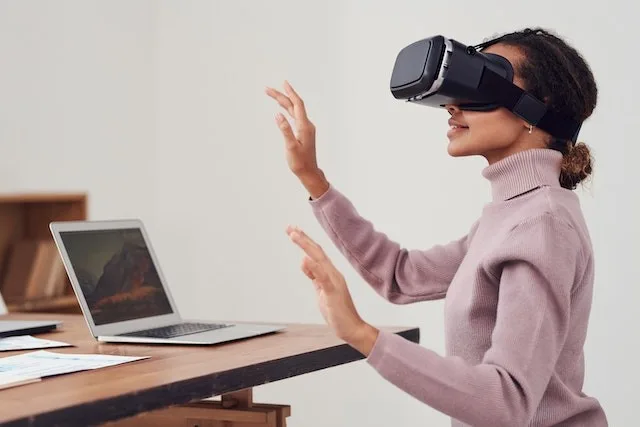 The fifth section highlights Kiyosaki's belief that financial success is an ongoing process that requires continual effort, learning, and adjustment.
He motivates readers to embrace different perspectives and take calculated risks in order to accumulate financial prosperity.
Kiyosaki talks about the importance of creating a vision for your future and setting goals.
He suggests that formulating goals and visualizing an ideal future is the first step to achieving financial success.
He encourages readers to develop a plan of action and have the commitment required to follow through with it.
He also argues that having clarity on your financial objectives will help you stay motivated, even when times get tough.
Related Reading:
Having the right state of mind
Kiyosaki's final section of Rich Dad Poor Dad outlines the importance of giving and having the right state of mind.
He explains that true wealth comes from helping others, and not just from accumulating material possessions.
He encourages readers to be generous with their time, resources, and knowledge in order to give back to society and build something greater than themselves.
Kiyosaki encourages readers to look beyond money and focus on being of service to others, as this ultimately leads to true wealth.
He also talks about the power of perseverance and developing a strong sense of self-belief in order to achieve meaningful success.
Lastly, he stresses the cruciality of self-care in order to reach financial freedom.
He proposes that staying healthy mentally and physically will help one stay determined on their path towards success.
The Rich Dad's Guide to Investing
Rich Dad, Poor Dad author Robert Kiyosaki provides invaluable advice on how to invest your hard-earned money into income-producing assets.
He educates readers about the different kinds of investments like real estate, stocks, and businesses as well as how to assess them.
Moreover, he encourages readers to take calculated risks in order to create enormous wealth a message that resonates with many investors.
He inspires his readers to stay informed about money, and investing and to take advantage of new possibilities.
The Reasons Why the Rich Stay Rich
Kiyosaki explains why some individuals are able to amass wealth while others struggle.
According to him, the main reason for this is that wealthy people have a distinct attitude toward money – they view it as an instrument that can yield more riches instead of something to spend or set aside while the middle class acquires liabilities.
Praised by critics, this book provides invaluable guidance on financial literacy, investment strategies, and building wealth.
Among the critical lessons from Rich Dad, Poor Dad is understanding the need to move away from a worker mentality and toward that of an investor or business owner.
According to Kiyosaki, amassing wealth comes from creating income through assets, passive income rather than employment, or self-employment.
He stresses the significance of recognizing the contrast between assets and liabilities and how they influence one's cash flow.
This book shines a light on the significance of financial literacy and grasping how money functions.
Although his poor dad was quite educated and smart compared to his rich focus, Kiyosaki noticed that he had a lack of comprehension concerning money, which caused him to never attain financial abundance.
In contrast, his affluent father didn't have any formal education yet he possessed a discerning comprehension of wealth and was able to cultivate it.
This book calls upon readers to gain knowledge and understanding of money, investing, as well as financial strategies in order to empower themselves.
Kiyosaki encourages taking intentional risks and embracing fresh possibilities in order to accrue wealth.
He encourages readers to push boundaries and dive into the unknown, emboldened by a quest for financial liberation.
Furthermore, this book emphasizes the significance of devising an inspiring vision for the future and outlining objectives as a means to accomplish financial prosperity.
This book emphasizes the necessity of continually developing, both in terms of personal and monetary growth.
Robert Kiyosaki encourages us to recognize that financial freedom is something we must cultivate, not merely a single milestone.
With dedication and ongoing education, success can be yours – the more you grow and learn in your pursuit of wealth, the greater your potential for achieving lasting prosperity.
He encourages readers to stay informed about new investment opportunities and to constantly strive to improve their financial knowledge and skills.
Related Reading:
Evaluating the Impact of Rich Dad, Poor Dad on Critics
Detractors of the acclaimed Poor Dad, Rich Dad have argued that its advice can be too simplistic to truly achieve lasting financial success.
However, these same critics also acknowledge how this book has become a cornerstone for many individuals looking to improve their personal finances and make better investments for their future.
Though some cynics suggest that the book gives an inaccurate notion of getting rich quickly with a handful of straightforward steps, disregarding personal circumstances and monetary standing, this is far from reality.
Furthermore, it should be noted that not all of the investment strategies discussed in this book may bring desired results to everyone.
Rich Dad, Poor Dad is a must-read book when it comes to personal finance.
Its primary focus is on developing financial literacy, investing in assets for long-term wealth creation, and taking smart risks that have the potential to pay off big time.
This book provides a wealth of invaluable knowledge and useful guidance for those seeking to strengthen their financial circumstances and attain monetary autonomy.
Nevertheless, it's essential to bear in mind that the book may not be suitable for all individuals, and seeking advice from a professional financial advisor should always come first before making any substantial monetary decisions.
If you're looking for advice similar to that found in Rich Dad Poor Dad, there are several books available. Here's a list of some of the most popular titles:
The Millionaire Fastlane by MJ DeMarco
The Millionaire Mindset by Gerry Robert
The Cashflow Quadrant by Robert Kiyosaki
The Richest Man in Babylon by George S. Clason
Think and Grow Rich by Napoleon Hill
The 7 Habits of Highly Effective People by Stephen Covey
Conclusion
Every individual hoping to gain monetary independence and improve their finances should read "Rich Dad, Poor Dad" by Robert Kiyosaki – it's an absolute must.
This book is an invaluable guide that provides perceptive guidance on financial literacy, investment tactics, how to make your money work for you, and taking calculated risks.
This book highlights the significance of transitioning one's mindset from a working individual to an entrepreneur or investor and emphasizes the importance of never ceasing to learn and expand, both on a personal and financial level.
While certain strategies may not be pertinent to all readers, "Rich Dad, Poor Dad" is a valuable asset for anyone desiring to gain control of their finances and attain financial freedom.
This is a book that emphasizes the importance of financial education and changing one's mindset when it comes to money in order to build wealth.
It provides practical advice on identifying and acquiring assets and investing for the long term.
If you are considering any large financial decisions, it is crucial that you seek the assistance of a professional financial advisor.
People also ask
Q: Who is the author of "Rich Dad, Poor Dad"?
A: Robert Kiyosaki
Q: What is the main premise of "Rich Dad, Poor Dad"?
A: In this book, the author reflects on two distinct financial ideologies: one held by his "rich dad", or best friend's father, and another by his own "poor dad".
He contrasts their varying philosophies to reveal what makes each unique.
This discourse challenges the traditional notion of achieving financial success by simply acquiring a prestigious degree and landing an exorbitant job.
Instead, it proposes another approach to money that goes beyond these conventional ideas.
Rather than simply advocating for saving money, this book encourages investing in assets such as real estate and other ventures to unlock financial freedom.
Q: What are some of the key lessons presented in the book?
A: Some key lessons presented in the book include:
-The difference between assets and liabilities, and how building assets is the key to wealth
-The importance of financial education and taking control of your financial future
-The benefits of investing in real estate and starting your own business
-The dangers of consumer debt and living beyond your means
-The importance of taking risks and thinking outside the box when it comes to money and investing.
Q: Is the book only for people who want to become wealthy?
A: No, the book is not just for people who want to become wealthy.
No matter your financial background, this educational material offers a thorough knowledge of money management, investments, and wealth building.
It's an invaluable resource for those striving to achieve their financial goals.
Q: Does the book guarantee financial success?
A: No, the book does not guarantee financial success.
The goal is to furnish you with the knowledge and guidance needed to make informed decisions regarding your fiscal future, but how you choose to act upon this information is ultimately up to you.
Q: How has "Rich Dad, Poor Dad" impacted the personal finance industry?
A: "Rich Dad, Poor Dad" has been a bestseller and has had a significant impact on the personal finance industry.
By encouraging individuals to take charge of their financial futures and adjust how they think about money and investment, this book has sparked a movement.
Others have taken notice by creating courses and additional books on the same subject matter.
The popularity of financial education has skyrocketed, motivating many to seek out more knowledge on how to effectively manage and invest their money.
Q: What is the central thesis of this book?
A: The primary goal of this book is to teach readers the importance of financial independence and how they can successfully amass wealth through investing in resources like real estate or opening their own business, rather than solely relying on high salaries and frugal saving habits.
Q: What are the four categories of people that the book discusses?
A: This book explores four distinct types of people: employees, self-employed individuals, entrepreneurs, and investors.
Q: Does the book discuss the importance of taking risks?
A: This book emphatically stresses that taking strategic risks and embracing new possibilities are the essential components of accumulating wealth.
Q: Does the book emphasize the value of ongoing learning and personal development?
A: Absolutely, this book encourages its readers to never stop learning about finances and investment opportunities, while being open-minded in order to seize any prospects that come their way.