Are you interested in earning cash rewards for your usual online activities such as shopping, browsing the web, or participating in surveys?
If yes, then Swagbucks might be the online rewards program for you, where you can earn cash and gift cards for these activities.
This post will guide you through the process of how Swagbucks works and how you can earn money online can take full advantage of it.
You'll also learn how to redeem your earnings for rewards and gain some helpful tips and tricks to increase your income with Swagbucks.
What is Swagbucks?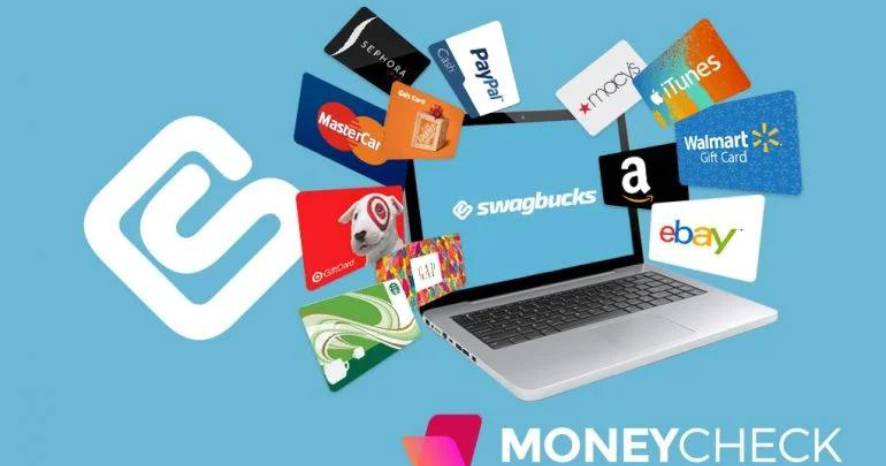 Prodege LLC is the parent company of Swagbucks, which is its main product.
Founded in 2005, Prodege LLC is a prominent internet and media company that specializes in customer engagement – just like Swagbucks.
Swagbucks provides multiple ways for users to engage with different products and brands and awards them points called SB.
These Swagbucks points can be exchanged for Amazon gift cards and other rewards. Additionally, Prodege owns other customer interaction brands such as Shoply and MyGiftCardsPlus.
These enterprises collectively have 100 million registered users and work with 5,000 different retailers and brands.
Swagbucks has paid out more than $200 million in rewards and has over 20 million members.
Check out Swagbucks Here and get 150SB.
How to Join Swagbucks
It's completely free and straightforward to become a member of Swagbucks.
You can join by providing a valid email address or signing up with your Facebook account. If you earn 2,500 SB within the first 60 days after joining, you will receive a $5 bonus.
You can register for Swagbucks by following this link Here and get 150SB
After signing up, you can begin earning SB by completing tasks online. Additionally, you can earn free gift cards you can install the Swagbucks app on your smartphone or tablet to earn while on the move.
How to Earn SB with Swagbucks
Swagbucks offers multiple ways to earn SB, but these are some of the most popular and profitable methods:
Taking online surveys and daily polls: One of the most popular and simple ways to earn SB is by completing surveys on the Swagbucks website or app.
The surveys cover a range of topics and categories, vary in length and payout, and typically offer between 1 and 200 SB per survey. Additionally, you can earn 1 SB per day by answering a brief daily poll question.
Playing trivia games: Swagbucks Live is a live-streaming app that hosts trivia games multiple times a week.
By answering questions correctly and making it to the end of the game, you can win SB and have fun testing your knowledge.
You can also earn SB by playing Solitaire, Bingo, Slots, and other games on the Swagbucks website or app.
Shopping online: By using the Swagbucks portal for your online shopping, you can earn cash back in the form of SB.
You'll have access to thousands of deals and offers from popular retailers like Amazon, Walmart, Target, and more. The amount of cashback you can earn depends on the store and the offer, but it can be as high as 20% or more.
Watching video playlists: To earn SB, you can watch curated video playlists on entertainment, news, sports, and more through Swagbucks. You can find them under the Watch section on the Swagbucks website or app. By watching videos, you can earn up to 150 SB daily.
Using the Swagbucks search engine: To earn SB while browsing the internet, try using the Swagbucks search engine instead of Google or Bing.
You can set it as your default browser or install the SwagButton extension to access it conveniently. By using the Swagbucks homepage to search for anything online, you have a chance to win SB randomly.
Participating in exclusive online product offerings or deals: To discover new products or services online and to earn Swagbucks rewards SB, participate in offers or deals from Swagbucks partners.
Check out the Discover section on the website or app to find these offers. Examples include signing up for free trials, subscribing to newsletters, downloading apps, or making purchases.
How to Redeem Your SB for Rewards
After accumulating a sufficient amount of SB, you can exchange them for rewards through the Swagbucks platform, either via their website or app.
The available options include gift cards from a wide range of retailers such as Amazon, Walmart, and Starbucks.
To redeem a gift card, you need a minimum of 300 SB (worth $3).
However, certain gift cards may require more SB, depending on the retailer and their value. You can also convert your SB to cash through PayPal, but the minimum requirement for that is 2,500 SB (worth $25).
After you exchange your SB for a reward, you will get an email confirming it with a code or a link to get your reward.
Also, you can check your rewards history by visiting the My Account section on the website or app.
How to Boost Your Income with Swagbucks
To increase your SB earnings with Swagbucks, consider using these tips and tricks for maximizing your rewards.
Complete your profile and answer the profile surveys: When you become a member of Swagbucks, you'll need to complete some profile surveys and fill out your profile with information about your demographics, interests, preferences, and behaviors.
This will earn you 32 SB and help you qualify for more relevant, higher-paying surveys in the future.
Check the daily goal and the to-do list: Swagbucks assigns a daily goal for you to earn a specific amount of SB coins.
You will receive a bonus of 10% or more of your earnings if you can reach this goal every day.
Additionally, you can complete the daily to-do list that contains eight different activities such as taking a survey, watching a video, or performing an internet search to earn more SB coins.
Refer your friends and family: To earn more SB on Swagbucks, refer your friends and family by sharing your unique referral link located in the Invite section of the website or app.
When someone signs up using your link and earns 300 SB within their first 30 days, you'll get a 300 SB bonus. Additionally, you'll receive 10% of their future earnings. Share your link through email or social media.
Join the Swagbucks community: To stay informed about Swagbucks news, tips, and offers, you can join their community on multiple platforms, including Facebook, Twitter, Instagram, YouTube, or Reddit.
Additionally, you can subscribe to the Swagbucks blog newsletter or enable the Swagbucks Live app notifications.
By joining the community, you can interact with other users, take part in contests and giveaways, and avail exclusive swag codes and deals.
Use multiple ways to earn: Swagbucks provides numerous methods to earn SB, ensuring you always have options.
To maximize your earnings, choose activities based on your schedule and preferences.
For instance, utilize surveys during downtime, watch videos when bored, shop online to save money for needed items, or play games for entertainment.
How Much Can You Earn with Swagbucks?
The amount you can earn with Swagbucks varies depending on the different activities you do with Swagbucks review since each activity has its own rewards.
You can earn different amounts of Swagbucks for various activities such as taking a survey (up to 100 SB), purchasing a gift card (5 SB), or signing up for a special offer (several hundred or even a thousand SB).
Please note that some special offers may require you to spend money to earn more Swagbucks.
When you sign up for a Swagbucks activity, it's important to remember that each Swagbuck is worth one cent, which equals 1% cash back.
To earn $1 in rewards, you will need to accumulate 100 SB. Usually, users earn between $0.05 and $2.50 by completing surveys.
Although it's not as frequent, the company states that a few users can even see ways to earn money from $25 to $35.
When redeeming Swagbucks for gift cards, note that rewards are given on a first-come, first-served basis.
If the reward you selected is sold out, the company may send you a different reward of equal value instead.
While this is unlikely to be an issue for most people, be aware that you may receive a different reward than what you originally picked if this happens.
Rewards that have been redeemed can be delivered via email or U.S. postal address, but the processing times may vary.
Most rewards come in the form of gift cards for stores, but you can also choose to redeem your Swagbucks for cash via PayPal in increments of $25.
However, it's important to note that a transfer to a PayPal account may take between 10 to 14 business days.
Here are some additional essential details regarding Swagbucks rewards:
Rewards are non-transferable and non-refundable. You can't exchange them for other rewards or return them for SB.
Rewards expire after six months from the date of issuance. You should use them before they expire or you will lose them.
Rewards are subject to availability and may change without notice. You should check the website or app regularly for the latest offers and deals.
How to Maximize Your Earnings with Swagbucks
It can be difficult to determine the most effective way to earn rewards with Swagbucks because deals and their earning potential are always changing. However, here are some tips to help you get started.
Start by finding out what works best for you: Plan out the time and location for earning Swagbucks based on factors like the amount of available time, level of focus, and the reliability of your internet connection (especially when completing tasks on the app).
Earn more by doing activities you actually enjoy: If you are not fond of taking surveys, try earning points by looking for new deals on the website or watching videos instead.
You can begin earning by downloading Swagbucks mobile apps from this link: Swagbucks LIVE is a live trivia game show that can be played using the Swagbucks LIVE app.
By correctly answering questions and reaching the end of the game, you will earn points and can win SB.
Make Swagbucks your default search engine so you can earn SB while you search: To easily access it, you can either set it as your default browser or install the SwagButton extension on your current browser.
Additionally, you have the chance to win SB by searching for anything randomly on the internet.
Activate the daily goal option to earn bonus money on Swagbucks: Swagbucks sets a daily goal for you to earn a certain amount of SB.
If you reach this goal, you'll earn a bonus of 10% or more of your earnings. Moreover, you can earn extra SB by completing eight tasks daily, such as taking a survey, watching a video, or searching the web.
By playing games and following these tips, you can increase your chances of earning more SB and getting closer to your desired rewards.
Final thoughts On Swagbucks
Swagbucks is a legitimate and simple method to make money online by performing tasks you already do.
The Swagbucks site offers a variety of earning options, including gift cards or cash, that are suitable for everyone. Simply create a free account and connect to the internet to get started.
To begin earning with Swagbucks, simply register here and receive a $5 bonus upon earning 2,500 SB within 60 days of account activation.
Frequently Asked Questions about Swagbucks
Below are some common questions that people ask about Swagbucks which may help answer any remaining questions you have about the platform.
Is Swagbucks safe and legit?
Swagbucks is a legitimate and safe website that has been operating since 2008. It has paid out more than $200 million in rewards to its members.
Swagbucks has earned an A+ rating from the Better Business Bureau and a 4.3 out of 5 rating from Trustpilot.com. Additionally, Swagbucks complies with GDPR, CCPA, COPPA, and other privacy laws.
How do I get paid by Swagbucks?
Swbucks offers two payment options: PayPal cash or free gift cards. You can use your reward points (SB) to get PayPal cash if you have at least 2,500 SB ($25) or free gift cards starting from 300 SB ($3) from various retailers like Amazon, Walmart, and Starbucks.
After redeeming your SB, you will receive an email confirmation that includes a code or a link to claim your reward.
How long does it take to get paid by Swagbucks?
After redeeming your SB, it can take anywhere between one to 10 business days to receive your reward.
The time frame may vary depending on the retailer or availability of the reward. You can monitor the progress of your reward by going to the My Account section on the website or app.
How do I contact Swagbucks customer support?
To get assistance with Swagbucks, you can submit a ticket on the help desk page at https://www.swagbucks.com/help.
On that same page, you can check the status of any previous tickets you've submitted. Another option is to join the Swagbucks community on different platforms and ask for help from moderators or other members.
How do I delete my Swagbucks account?
To delete your Swagbucks account, you should reach out to the customer support team and make a request. Visit the help desk page at https://www.swagbucks.com/help, select "Account Deletion" as the category, and submit a ticket.
You'll be asked to provide your email address and password for verification. Keep in mind that when your account is deleted, you will lose all of your SB and rewards.